About the Books…and psst…book baby #3 is on the way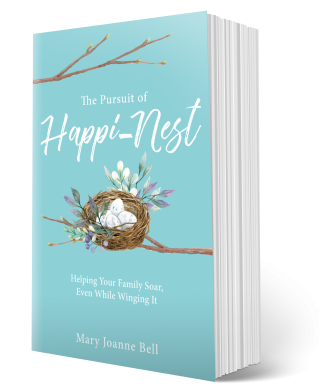 More Love at Home is an homage to the beautiful family-building doctrines and practices of LDS families. It's a template for new members, non-members, less active members looking to return, and of course, for all active members also seeking to bless their nests.
This book is infused with love: love for the Savior, love for the gospel, and (as subtext) a love of missionary work. It's comedic and instructive by turns, as each chapter discusses a different aspect of family life and how to enhance it. Families are the basic building block of society.
When families are strong, we are all stronger. When they are weak, mankind suffers. Latter-Day Saints have a plethora of knowledge about how to properly build well-constructed families.
"MaryJo Bell is a jaunty, charming writer who sprinkles her consid- erable insights with hard-earned wisdom and delightful stories. She is the friend you wished you could talk to about the challenges of parenting—someone you know you could laugh and cry with and feel better and enlivened for it. You'll wish she lived next door, but traveling with her on the journey in writing to create a loving home is the next-best thing."

—Maurine Proctor, Utah Cofounder Of Meridian Magazine, Author, And Former Journalist For The Chicago Sun-Times