Welcome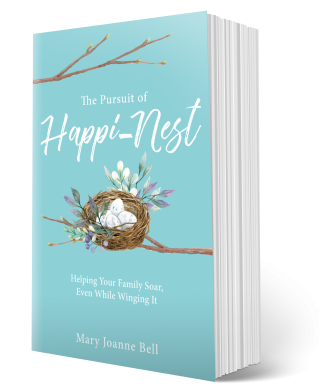 Hey friends! Whether we have known one another for decades, or you just clicked on this website moments ago…Welcome!!
There is this "Welcome Home" feeling-you know the one-that feeling of peace, safety, joy, and connection-all bundled up together.
It's the same feeling that whispers hope throughout this new book on strengthening home and family.
It's called The Pursuit of Happi-Nest (Helping Your Family Soar, Even While Winging It).
This is a book on a mission to help you have less contention, and more love, at home. The special sauce is that it draws from practical principles used by Latter-day Saints the world over to build strong families. You can use many of these principles and ideas without actually being a Latter-Day Saint (unless you want to!).
It's true that "Family life is the best method for achieving happiness in this world, and it is a clear pattern given to us from the Lord about what is to be in the next world." —Spencer W. Kimball
You can purchase The Pursuit of Happi-Nest book by clicking the "Book" link above.
I hope you find "joie de vivre" feelings here, but mostly I hope you will experience even more "welcoming" feelings in your own home, as we grow and learn, together.
From our family to yours,
Welcome, Home!
P.S. I hope you enjoy the daisies popping up on the blog. My mom carried daisies at her wedding. I think they symbolize purity, an absence of pretension, and innocence. These were the perfect choice for my beloved mommy. Hi, mom up there in heaven! Thanks for reading this blog!
P.S.S. Here is my most recent bio information:
MaryJo Bell is the leading voice on KSL Studio 5 TV for project Nanahood. You can find her mdia interviews under the TV/Media tab on this website.
MaryJo Bell is the author of the 2022 Costco bestseller "The Pursuit of Happi-Nest." This book is a unique mash-up of both silly and serious, offering Latter-Day Saint strategies for raising strong families. Zero readers need to become Latter-Day Saints to enjoy and apply the methods shared in this book. The Latter-Day Saints are considered experts in the field of family raising. It's time they got a book: D.
"I Can Feel it in My Heart" is an even newer book written for young children. Its aim is to offer gentle guidance for little ones trying to navigate life in this demanding digital age. It helps kids know what to do, should they accidentally bump into inappropriate digital images (including pornography).
Publishers have slated this for release in May 2023.
Publishers have also indicated that MaryJo's third book (on Nanahood!) will be released in 2024.
MaryJo is also the host of the podcast Moms Meet World (her favorite episode is "Moms Meat World;), now playing on Buzzsprout and all other major podcast platforms. This podcast ranks in the top 10% of global podcasts, and is currently #13 on the list of "90 Mom podcasts you must listen to in 2022." It is also all about strengthening home and family. Sometimes MaryJo's family is interviewed on the show, along with lots of other fun guests. Once in a rare while, there is a solo cast.
MaryJo has written for The Huffington Post, LDS Living, Meridian Magazine and Thrive Global. She is a graduate of Brigham Young University, a wife of 40 years, of mother of eight, and a Nana of nine (so far:).
Along with her passion for Nanahood and all things home, family, and heaven (our future home), MaryJo enjoys studying health and nutrition and doing some of the things she reads about. She loves most of life, including reading, walking, yoga, dancing, singing, laughing, aspirational gardening (read: currently non-existent), and the possible stitching of matching granddaughter dresses. If she ever actually pulls off this last one, she will share photos:).